I have my own hesitations about a lot of "ambient" music, because the manner so often pulls the rug out from under the matter. I mean, synth-pads/presets and drones are
not enough
. "Evocative" (depending on what you mean by that, and how you go for it)
is not enough
. If "ambient" is to mean anything more than "advertising", which is to say, easy-listening, then it would seem that attention to, well,
attention
is well-nigh crucial. Someone who hasn't put the proper attention into the material and the form of the field that they're working with, is simply slopping givens at me. I will know the difference, and I will accordingly reject such laziness as cynicism, not ambience.
That said, the Bass Communion project of neo-prog-sensations Porcupine Tree's svengali, Steve Wilson, rather took me by surprise. At least this one hallowed record,
Ghosts on Magnetic Tape
. It's elegiac. Nuff said. I am several listens through it and it holds me.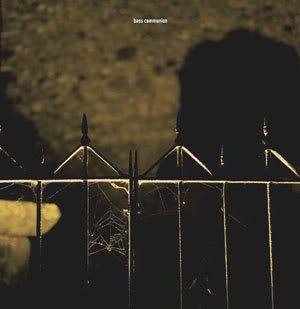 Bass Communion: Ghosts on Magnetic Tape
(Headphone Dust CD - HDBCCD9, released February 2004)
http://rapidshare.com/files/66426414/BC_GMT.zip
In vinyl replica gatefold card sleeve. Also 300 copies available as a double CD including Andrew Liles reconstruction disc [please see below].
A little hype for you:
This is the third full length album by SW's Bass Communion project and is a one hour work divided into 5 distinct sections. The album is inspired by alleged tape recordings of the dead communicating with the living world, paranormal research most famously practised by scientist Konstantine Raudive in the 1970's. This is a spectral and brooding album, rich with dark clouds of sound, beautiful textures, creepy drones and eerie crackling. SW considers this to be one of the finest recordings he has ever made.


Also here, perhaps of interest not least because of its rarity, is the version of the entire
Ghosts
album done by Andrew Liles, whose work usually bores the shit out of me, but seems to be someone respected by many whose taste I respect. It's actually not too bad. It was included as a bonus disc in a very short-run reissue of
Ghosts on Magnetic Tape.


Bass Communion/Andrew Liles:
Ghosts on Magnetic Tape - A Liles Reconstruction
(
Headphone Dust CD - HDBCCD9X, June 2004)
http://rapidshare.com/files/66432961/BC_GMT_Liles.zip
500 copies in plain white wallet for inserting into sleeve of HDBCCD9, 200 copy special art edition, and 300 copies pre-packed into 2CD version of HDBCCD9 (1,000 copies total).
Yet another collaboration brings Bass Communion together with Nurse With Wound studio-svengali
Colin Potter
and Potter's frequent collaborator
Jonathan Coleclough
, whose work I'm featuring prominently on the blog, as it's often strong and to my own taste. Of note for those with not-much interest in Bass Communion is the fact that over this lengthy 2cd set, the vast majority of final-cuts are given to Potter/Coleclough, including the entire second disc, a 70+ minute behemoth with Coleclough on the goddamn masterfade. Right! Good thick ambient goop and not-bad throughout.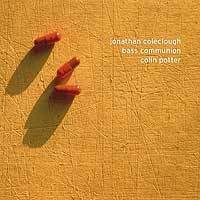 Jonathan Coleclough · Bass Communion · Colin Potter
(2003 · double CD · ICR 39 · ICR · UK)
http://rapidshare.com/files/63481413/JC_BC_CP_2cd.part1.RAR
http://rapidshare.com/files/63473910/JC_BC_CP_2cd.part2.RAR
http://rapidshare.com/files/63472237/JC_BC_CP_2cd.part3.RAR
The extra artist(s) listed for each track were the sound sources, which the listed artist "mixed" to form the finished piece.
The sound sources are not identified by original track title or album, or whether the source material has originally seen prior release or has been constructed especially for this project.
Therefore, the sound sources are treated as collaborators, with the "remixer" being the artist.
Track details, as listed on the cd:
1-1 Sources: Bass Communion | Mix: Potter
1-2 Sources: Potter & Coleclough | Mix: Bass Communion
1-3 Sources: Bass Communion | Mix: Potter
1-4 Sources: Bass Communion & Coleclough | Mix: Coleclough
2-1 Sources: Bass Communion | Mix: Coleclough
Coleclough and Potter's remix 'Drugged IV' appeared on the Bass Communion remix CD in early 2003. But they recorded far more material. This release includes much of that music, along with a Bass Communion mix of some of Coleclough and Potter's material.
Saxophone on 'Pethidine' and 'Epidural' played by Theo Travis.