some treats for you today..... a couple of rare LP's....
first off is one that was recently reissued on the excellent creel pone record label.
(creel pone reissues rare electronic works in sets on 100 CD-R's only). This is however a rip from the vinyl LP I picked up many years ago....

thorkell sigurbjörnsson "la jolla good friday i - ii"
* la jolla good friday i (17'10")
* la jolla good friday ii (21'15")
creelpone press release:
reproduction of this 1981 lp featuring two wasted / buzzing / side-long / go-nowhere early computer pieces recorded on march 28th, 1975 that sound not unlike an airplane landing/taking off as realized by the programmers of an atari 2600 console video game...
this one's kind of a tough nut to crack actually (mainly due to its' inherent "nothingness") but what i do find appealing is that despite being birthed from well within an "academic" environ (the hallowed halls of ucsd) this is probably more zonked/"automatic"-sounding than most private/bedroom-electronic lps of the same era (or of any time between 1975 and now.)
one thing's for certain; this does a bang-up job of capturing a certain digital-age claustrophobia (think: wargames) than any other record i've heard... and yes, that "one man against the world" spirit i'm often referencing is here in droves...
r
this next album has never been re-issued as a CD and has been out of print for years....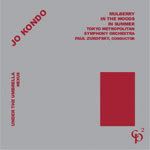 (not the real cover which I could not find on web but very similar....)
Standing ; Sight rhythmics : for piano ; Under the umbrella
by Jō Kondō; Aki Takahashi; Sound Space "Ark" (Musical group); Nexus (Musical group)
Jo Kondo ( b. Tokyo, Japan, 1947) is a Japanese composer of contemporary classical music. He graduated from the composition department of Tokyo University of Arts in 1972. He serves as Professor of Music at Ochanomizu University in Tokyo and also teaches at Tokyo University of Arts and Elisabeth University of Music in Hiroshima.
Kondo's works are often structured mathematically, using minimal principles of composition. However, the repetitions are very rarely literal and operating across the entire ensemble; rather, they are structural, adhering to the "20% redundancy" principle of evolutionary aesthetics. His interests include hocket, the music of Ancient Greece, and strong differences in instrumental timbre, all of which are reflected in his compositions. A similar stylistic point of reference would be the Italian composer Franco Donatoni. The chamber version of his 1975 composition Sight Rhythmics reflects the latter in its unusual instrumentation of violin, banjo, steel drum, electric piano, and tuba.
1 sound disc : 33 1/3 rpm, stereo. ; 12 in.
Note CP2/11.
The 1st work for flute, marimba, and piano, the 2nd for piano, the 3rd for 5 cowbells (5 players).
Sound Space "Ark" (1st work) ; Aki Takahashi, piano (2nd work) ; Nexus (3rd work).
Recorded 1973-1980, in Tokyo and Norland, Ont.
Durations: 7 min., 52 sec. ; 13 min., 13 sec. ; 23 min., 34 sec.
Program notes by Joaquim M. Benitez on container.
r
j Kondo
enjoy.....tom7865