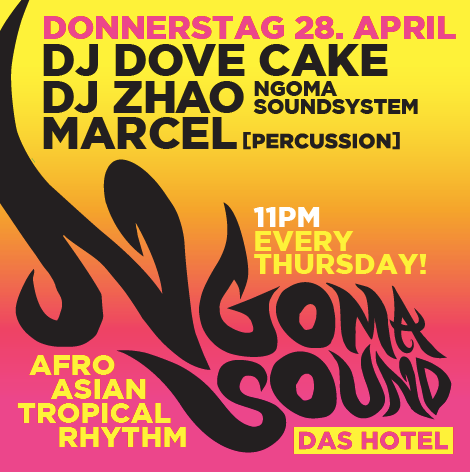 EVERY THURSDAY 11pm - 4am
@Das Hotel - Mariannenstrasse 26A
AFRO-ASIAN-TROPICAL RHYTHM AND BASS
Zulu Electro / Tribal Guarachero / Cumbia / Kuduro / UK Funky
_______________________
...APRIL 28 - DJ ZHAO + DOVECAKE + Marcel (percussion)
Special SHANGAAN FOOTWORK Action from Mozambique and Chicago!
_______________________
MAY 05 - DJ GRACE KELLY (MUNDO MIX) + ALEX (HAT'N'HOODIE)
come celebrate Spring with the sweetest and toughest rhythms from all sides of the multiverse: both heavy classic boogie and tech-soul floor killers.
an intimate club with great sound and no neighbors... see you on the dance floor!!!
Thursday 30 April @
Sketch Club
: Ngoma Bass for Merano, Italy, in the beautiful mountains, Giorgio Moroder's home town.
Thursday 5 May @ Visionario Cinema: Ngoma Deadly Venom will MURDER the
Far East Film Festival
in Udine, Italy. 10 PM - 4AM
Friday 6th of May will be shaking the foundations at YAAM starting around midnight until 4PM the next day, alongside Silent Pressure, Marflix, and Sun Fire Sound. BOOYAKASHA!