3 nearly completely random recordings with no direct connection to eachother, covering some familiar favorite topics (partially to appease my slightly guilty blogger conscience):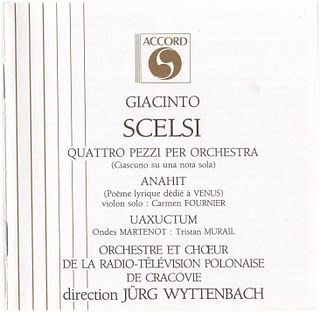 this week's favorite Scelsi
: slightly eerie out of body experiences in solemn reverence of the first part gives way to sheer terror during the second.
Lyrichord 7456 Gamelan of Java Vol. 1. Kraton Kasunanan
i noticed that this is commercially available after i uploaded. will take down if retailers has a problem...
i think mostly referred to as Mclaren's "hiphop" album, but this is an
unlikely early precursor
of "Whirled Music 2.0" from 1983 (not sure what exactly the definition is but i think the DIY cut-ups and sampling on this demonstrates an attitude of westerners toward non-western music characteristic of 2.0 --- i suppose early Can and the Bush of Ghosts also qualify) can't really imagine what was going on in the punk marketing culture theorists' head when he planned and executed this, but it has many interesting moments (if not entirely a great listen from beginning to finish). i suppose this was right before he went on to bang about 16bit gameboy culture in the 90s (which can be called "prophetic" if one was feeling generous...)