it's been almost an entire year since my trip to morrocco, and it is (past) time to share some of the music i bought in the dodgy little cramped and messy CD shops around Marrakesh and on route to the Sahara. what i found is that the bigger shops which are more organized is mostly all pop and rubbish, and that it is the ones with stacks of shit all over the floor, looking like it just opened that very afternoon, with employees who look like kids from the street, in which you can find real magic. i stood in a few of them for hours on end, trying to describe with gestures and a friend who could translate, the sounds i was after, and going through stacks and stacks of CDs. service was great, they happily played for me any CD i pointed to on the shop stereo. glad i spent the time and energy as i did find some real gems. here is the first, more to follow.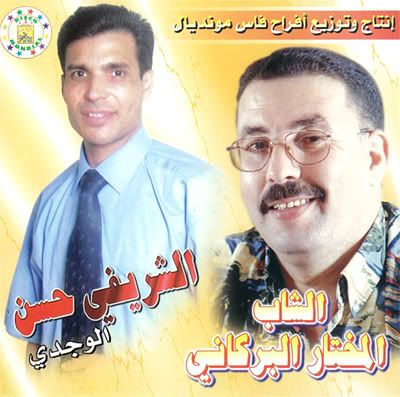 the music on here is even more amazing than this cover. as soon as the beat kicked in on the first track i was like "this goes in the yes pile". the guy on the left with the tie the shop attendent told me is a legendary player.
sorry there are no english names on most of these CDs and all i could do was label the mp3s in a simple way so that i can remember which is which.
much thanks to a commentor the artists on this recording has been identified as CHEB MOKHTAR EL BERKANI, featuring Hamid Bouchnak (Rai pioneer), with Hassan El Oujdi on vocals for tracks 11 and 12.
coming up: Berber reggae, classic Gnawa and fusion, more badass Rai.
thanks to Ed this has been
re-upped
.