one of, if not
the
best from that era of big label "chill out" compilations (actually more like "stress out" haha - in a good way). many essential pieces but a few on here are all time favorites and not available anywhere else -- that O'rang vocal less version of "Little Sister" for example... to this day defying categorization of any sort.
i remember being 19 and stealing this CD from Virgin megastore, eager to discover new sound worlds, not knowing many names on the sleeve (and not having enough funds). i was very much attracted to the packaging and concept... here was something out of the ordinary, a dark, cavernous, hallucinogenic visual and aural object, promising introspective realms of sensation. funny that it was sitting on the shelves with C&C Music Factory and REM -- in hindsight it was one of those few great isolated (no pun intended) incidences where something truly subversive and rewarding was able to be smuggled through the cracks of the machinery of commerical distribution, and find its way into the hands (and CD player) of a starving young mind. (it was probably the least successful in terms of sales in the ambient series; i seem to remember reading that it was a financial disaster)
bringing it home, at first it was impenetrable (my friends had zero patience for it), but as i listened more, the power of these tracks revealed itself, and lead the way to many exhilarating experiences in music later. in this sense it was one of the few occasions packaging worked, and more importantly
delivered
.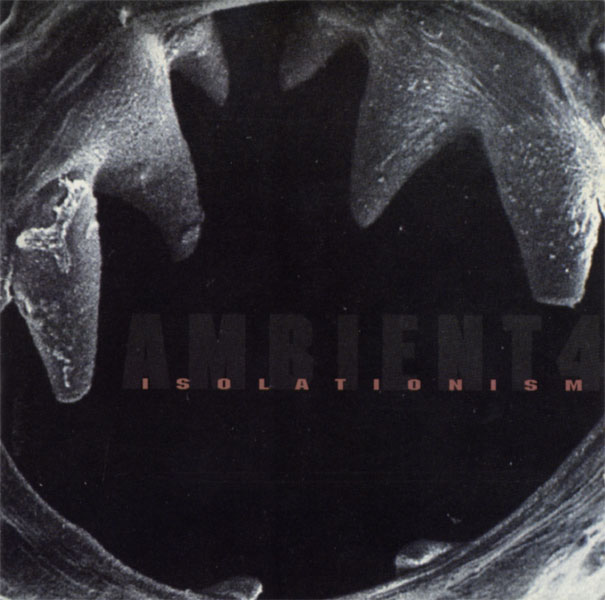 CD 1
1. KK Null & Jim Plotkin: "Lost (Held Under)"
2. Jim O'Rourke: "Flat Without A Back"
3. Ice: "The Dredger"
4. Raoul Björkenheim: "Strangers"
5. Zoviet France: "Daisy Gun"
6. Labradford: "Air Lubricated Free Axis Trainer"
7. Techno Animal: "Self Strangulation"
8. Paul Schütze: "Hallucinations (In Memory Of Reinaldo Arenas)"
9. Scorn: "Silver Rain Fell (Deep Water Mix)"
10. Disco Inferno: "Lost In Fog"
11. Total: "Six"
12. Nijiumu: "Once Again I Cast Myself Into The Flames Of Atonement"
CD 2
1. Aphex Twin: "Aphex Airlines"
2. AMM: "Vandoevre"
3. Seefeel: "Lief"
4. .O.rang: "Little Sister"
5. E.A.R.: "Hydroponic"
6. Sufi: "Desert Flower"
7. David Toop & Max Eastley: "Burial Rites (Phosphorescent Mix)"
8. Main: "Crater Scar (Adrenochrome)"
9. Final: "Hide"
10. Lull: "Thoughts"
11. Thomas Köner: "Kanon (Part One: Brohuk)"
found at
friend sound.
props.