So
P(c)P
: not the party, but still the trace of angels:
Point (counter-)Point
: a little name-branding for an ongoing category in which I put up a couple-few recordings or so that somehow to me seem like stealth fellow-travellers, worthy adversaries, or twins separated at birth. No implications about deeper connections, which might or might not exist or even be decently phantasizable, but sometimes an intersection---if only in my wayward hearing---is just serendipitous to call for passing-along. So I pass along! I swear, commentary about putative connections will be kept to a dead minimum, so as to avoid advertising a musicological competence that I most certainly
do not possess
. But if it's bomb, how can I not bell about it?
Sacred Flute Music from New Guinea: Madang, Volumes 1 & 2
http://www.megaupload.com/pt/?d=J2S07AG5 (both volumes, 199mb, mp3-320-LAME)
A few words on Vol. 1:
"Meant to evoke the cries of spirits, sacred flutes are played by adult men of the Madang region of Papua New Guinea. Pairs of long bamboo male and female flutes accompany ceremonies in the coastal villages near the Ramu River. The ravoi flutes from Bak are supported by two garamut carved wooden slit gongs; the waudang flutes from Manam Island are backed up by a pair of large and small slit gongs, and six singers, and the jarvan flutes from Awar feature accompaniment by a shell rattle. The mo-mo resonating tubes were recorded in the Finisterre Range. These recordings were made in 1976 by Ragnar Johnson assisted by Jessica Mayer while conducting research in a remote village in the Eastern Highlands. Their intention was to preserve this traditional music as it is played in the villages of its origin."
Those heard:

Vagh & Gombreh / Soagili & Ururu / Jogun & Sabina / People of Damaindeh-Bau
A few words on Volume 2:
"Sacred flutes are blown ("Windim Mambu") to make the cries of spirits by adult men in the Madang region of Papua New Guinea. Pairs of long bamboo male and female flutes are played for ceremonies in the coastal villages near the Ramu River. There are the cries of six different pairs of flutes and one pair of conch shells from the Ramu coast, two pairs of Waudang flutes from Manam Island with singing and Mo-mo resonating tubes from the Finisterre Range. Occasional percussion is provided by wooden slit gongs and hand drums. These recordings were made in 1976."


A graspnote:
I was initially drawn to these recordings because Evan Parker cited them as key recordings of "ethnic"/traditional music practices for him, with the use of overtones and harmonics being particularly instructive to him in his own explorations of the saxophone. Turns out, Evan is credited in some respect with the reissue of these recordings, both of which were first released in 1977 and 1979 as the first two numbers of David Toop's Quartz label. I think these are amazing sounds and ways of organizing them; I think it's worth hearing both volumes (on repeat!), so I packed them together...hope this won't be too much of a problem. Hypnotic, understated, bracing, raw, elliptical and
full
.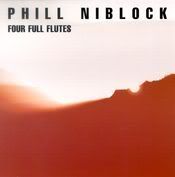 Phill Niblock: FOUR FULL FLUTES (the Dirty Version)
http://rapidshare.com/files/80210854/Niblock_FullFlutes_APE.part1.RAR
http://rapidshare.com/files/80210600/Niblock_FullFlutes_APE.part2.RAR
http://rapidshare.com/files/80209585/Niblock_FullFlutes_APE.part3.RAR
http://rapidshare.com/files/80208635/Niblock_FullFlutes_APE.part4.RAR
http://rapidshare.com/files/80207765/Niblock_FullFlutes_APE.part5.RAR

(APE lossless, tracks already split, no CUE)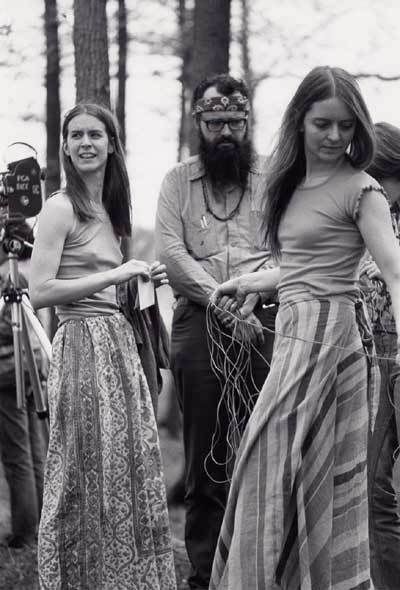 Phill

avec filles

....um.... [filles: Dana Reitz and Joan La Barbara, 1975]
A little hype:
"This CD was released by Experimental Intermedia Foundation in 1990 and includes Susan Stenger playing flute on two tracks. The scores were recorded using musicians playing instruments tuned to an oscilloscope in microtonal intervals; in this fashion Niblock creates "tone blocks" by editing out breathing spaces and assigning different pitch blocks to selected areas of the final eight-track recording. An photo of the incredibly arcane-looking scores for the three individual pieces is included in the extensive liner notes. One of the four tracks is actually the combination of the solo recordings by Stenger and Petr Kotik; the listener is encouraged to mix and match tracks on their own...." (lost source online...apologies)

"Phill Niblock's music has no precedents, invites no comparisons, and doesn't even suggest any metaphors to me. It is simply itself and must be heard to be believed," wrote Tom Johnson in The Village Voice a decade ago. The same is true today—no one is doing what Phill Niblock is doing. Niblock takes the building blocks of music and stacks them in inimitable formations. In Four Full Flutes, adjacent tones beat violently against one another while clouds of harmonics hover above the wavering drone . . . When the piece ends, it takes the listener a few moments to recover. This physiological experience, when the ossicles slow their vibrating and the membrane hairs come to a standstill, is probably the only aspect of the music not regulated by the score . . . Playing this compact disc in a different room or moving around the room while the disc is being played actually alters the outcome. Similarly, the music can be experienced anew through different combinations, extra speakers, home stereo pyrotechnics, and volume level alterations. The effects intensify with louder levels of volume. The higher the volume goes, the higher you go. " – Neil Strauss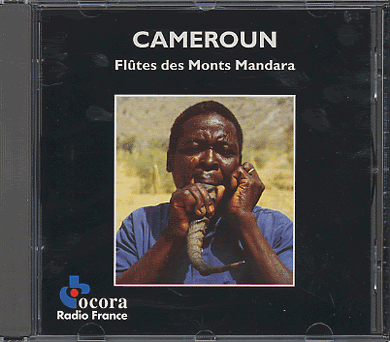 CAMEROON: FLUTES OF THE MANDARA MOUNTAINS
(Ocora: Radio France 560110)
http://rapidshare.com/files/80193545/Cameroon_FlutesMandara_Ocora.part1.RAR
http://rapidshare.com/files/80192163/Cameroon_FlutesMandara_Ocora.part2.RAR


(mp3-320-LAME)



Recordings made in Cameroon, 1994-6, by Nathalie Fernando, Fabrice Marandola

From the liner notes:

In this presentation of music of the animist peoples of the mountains and the the plains, we selected the most commonly found instrumental ensembles along with encounters of a more singular kind, proposing an instrumental and vocal range, representative of the multitude of sonorities, languages, and customs to be found in this region. The musics recorded come from ritual or profane repertoires, and do not necessarily accompany dancing. In the Mandara Mountains, the musical instruments used depend on the agrarian cycle, their playing being determined by different stages in the growing of millet: the Ouldeme flutes, for example, are played in turn for sowing time at the end of the harvest.


For information and photographs of some of the instruments used by these musicians, and other similar instruments, go to:
http://www.sukur.info/Music/Aerophones.htm