you knew this was inevitable..... give it a chance.......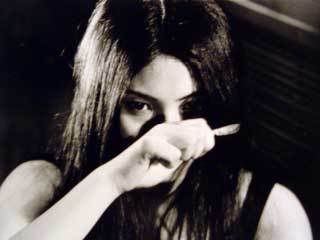 EROTIC ORIENTAL SUNSHINE 1968 ~ 1980 - Series (Tiliqua Records)
A retropsective into the realms of Iroke Kayokyoku
1. IKE REIKO: "Kôkotsu no Sekai" (Tiliqua Records - TILAR-5002CD)
1. Onna Wa Sore O Gaman Dekinai
2. Yokohama Tasogar
3. Keiken
4. Memai (Shiseikatsu)
5. Yoake No Scat
6. Ame Ga Yandara
7. Sasurai No Guitar
8. Watashi To Iu Na No Onna
9. Ai No Kizuna
10. Ame No Hi No Blues
11. Koi No Dorei
12. Tenshi Ni Narenai
13. Henshin
14. Onna No Akai Chi Ga Sawagu
15. Midnight Whisper In A Curved Air
Tiliqua Records continues its quest of digging up lost and forgotten sonic gems out of the bowels of oblivion. This time Tiliqua Records is more than thrilled to be granted the permission to unleash one of Japan's rarest erotic artifacts being Ike Reiko's sole recorded album out of 1971. Heralded by those few who have been blessed with an original copy of this ultra rare disc as the ultimate Iroke Kakyoku album that even surmounts Sandra Julian's "Sexy Poem"
on the brutality scale as far as unabashed, urbane eroticism, a calculated addition of licentious overtones and unbridled carnal insinuations are concerned.
Ike Reiko is mainly known as one of Japan's finest early seventies porn and pink violence starlets, tearing up screens with her naked presence in such films as "Sôkatsu Rinchi" of Ishii Teruo, the The "Sukebanchô" series and "Onsen Mimizu Geisha" of Suzuki Norifumi. Until now, this sonic gem has never been reissued and Tiliqua Records acquired the legal rights from Teichiku Records in order to restore this masterpiece to its former glory and introducing it
anew. In an attempt to describe the sonic sleazyness the disc venture into, here is a snippet out of the extensive linernotes. "Her erotic presence flutters across a multitude of erogenous non-verbal modes - moaning and uttered shrieks of ecstatic pleasure, sibilating suffocated whispers of excitement, and grunting and growling like a bitch in heat. When Ike does sing, it is in a subdued, husky voice about sex, submissive love and seduction. Although all the
songs are cover versions, Ike confines herself to whispering but a small part of the original lyrics, spending the remainder on guttural erotic incantations backed by the desolate sound of a cheesy organ and a muffled yet ecstatic mellifluous vocal sound that is reminiscent of the 13th Floor Elevators' Tommy Hall breathing down a jug. The entire recording is suffused with a unique atmosphere, a ripe and heady Japanese eroticism now sadly overwhelmed by the intrusive
and infelicitous import of cheap Westernized thrills and assorted uneuphonious cultural junk. Nevertheless, Kôkotsu no Sekai launched Ike as the nightingale of the pink new wave."
link:
http://massmirror.com/4011000b11143fa9afddfe826347d0ec.html
==============================================================================================
Ike Reiko bio-
bio:
Reiko Ike was still in her late teens when she was "discovered" by Japan's Toei Studios (stories of her "discovery" are inconsistent, ranging from being scouted in a nightclub to being spotted as a model). Along with Miki Sugimoto she was Toei's top sex star throughout the 1970s, and the focus of the "sukeban" or female girl boss phenomenon of '70s Japanese cinema. Beginning with Girl Boss Guerilla (Sukeban gerira (1972)), Ike made 12 films, almost all in the Pinky Violence/Yakuza Girl genre. Despite real-life trouble with the law, being arrested once for drugs and once for illegal gambling, she worked throughout the decade appearing in at least two of Kinji Fukasaku's "Battles Without Honor & Humanity" (Jingi naki tatakai (1973) series 1973-1979) series.
Her last film before disappearing from the public eye was The Golden Dog (Ôgon no inu (1979)). The bulk of her work was for Toei in 1973, when she appeared in the films Sex & Fury (Furyô anego den: Inoshika Ochô (1973)), Girl Boss (Sukeban (1973)), Terrifying Girls' High School: Lynch Law Classroom Kyôfu joshikôkô: bôkô rinchi kyôshitsu (1973)), Criminal Woman: Killing Melody (Zenka onna: koroshi-bushi (1973)) and Sex & Fury's sequel Female Yakuza Tale:
Inquisition and Torture (Yasagure anego den: sôkatsu rinchi (1973)). This rush of films established her as a major sex icon in Japan and created a tabloid rivalry with follow Toei contact player Miki Sugimoto, who was her co-star in several films.
The recent reissues of Sex & Fury and Female Yakuza Tale, along with the release of a Pinky Violence box set, collecting her films Terrifying Girls School, Criminal Woman, and Girl Boss Guerilla, has rekindled her cult following. The audio cd is a particularly "fun" supplemental one doesnt usually encounter with DVD's - my wife thought I had on a porno with all the moanin' & groanin' leaking outta the speakers!According to the liner notes,this recording is quite rare so this inclusion alone may be worth the price tag for some!
2. TANI NAOMI : "Modae no Heya " (Tiliqua Records - TILAR-5004CD)
1 昭和枯れすゝき 4:38 Showa Kare Susuki
2 明治一代女 2:47 Meiji Ichidai Onna
3 みちづれ 4:05 Michizure
4 すきま風 3:34 Sukimakaze
5 夢追い酒 3:55 Yumeoizake
6 再会 3:37 Sai Kai
7 花街の母 4:57 Hanamachi No Haha
8 船頭小唄 3:18 Sendoukota
9 なみだ恋 2:52 Namidakoi
10 そんな夕子にほれました 3:33 Sonna Yuko Ni Horemashita
11 他人船 3:50 Tanin Bune
12 男のポケット 3:02 Otoko No Poketto
First time ever legit reissue of this ultra-rare erotic artifact. Tani Naomi was Japan's finest bondage and S&M Queen who tore up cinema screens during the better part of the 1970s. This album, originally recorded and released in April 1979 was Tani's farewell statement to the world of porn. Here she delivers one of the finest examples of Showa-induced feminine erotics, hovering sexually tinted narrations over a background of kayokyoku themes and lush
orchestrations. Tani recorded this album to commemorate her withdrawal from the porn business. Seen in retropsect, the disc stands out as one of the top 5 erotic albums to come out of Japan. Still her musical endeavor is an odd one amongst the other Iroke chanteuses. Right from the opening on, Tani's direction becomes clear with her narrating in a teasingly melancholic way over a kayokyoku backing track. The effect is stunning, an utterly fornlorn sense of the
Showa erotic. Compared to the hard stuff she depicted on screen, the album feels muted in a cloud of pink. But still, she brilliantly succeeds in conveying the atmosphere of true Japanese eroticism, a fleeting and fragile emotion that evaporated in the cynical miasma of the eighties. On this recording, she gave voice to a libidinousness and the sensuality that trembled on the brink of extinction, the sexual appetite of an era soon to be swallowed up by the destructive forces of the 20th century. Tani naomi was truly the last to emit the intoxicating perfumes of Showa eroticism, as "Modae no Heya" perfectly illustrates.
http://rapidshare.com/files/27579069/Tani_Naomi_-_Modae_No_Heya.rar.html
3. KUWABARA YUKIKO : "Kuwabara Yukiko to Anata " (Tiliqua Records - TILAR-5005CD)
First time ever legit reissue of this ultra-rare erotic artifact. Kuwabara Yukiko (or Sachiko as she is also called) was Tokyo's finest ever Play Girl, starring in a string of movies such as Ozawa Shigehiro's "Bazoku Yakuza", Nakagawa Nobuo's "Kaidan: Hebi-Onna", Kodama Susumu's "Kimyo na Nakama: Oiroke Dochu", Takakuwa Shin's "Sex Kigeki: Hanaji Bo" and Noda Yukio's "Furyo Bancho"and appearing in a wide variety of fashion and nude magazines.Of course her
main feat was starring in 287 episodes of the erotic action series "Play Girl" that ran from 1969 to 1974. In between this all, she merely recorded onesingle mega rare album that was released in 1971 by Victor.Here, Kuwabara narrates over French perfumed tracks and hushes a couple of songs into being, all in an utterly depratved and erotic way. She just breathes out feminine lust, radiates out unresistable seductive powers and beats you with mesmerizing eye filling beauty. Tiliqua acquired the legal rights to reissue this erotic artifact for the first time and by doing so do we release another utterly historical important Iroke gem of times long gone, restoring it to its original state and restoring its place in the panthenon of forlorn Japanese erotic artifacts.
Kuwabara sings and delivers some erotic and ultra femine narrations that will elevate even the most limpid of your bodyparts.
http://massmirror.com/fee563283670261c254e5bd4fcdbea37.html
(thanks to Nicodemus for this link....Originally posted by Nikola to the currently defunct Forum B92)
4. TAGUCHI KUMI:"TOKYO EMMANUELLE FUJIN ~ Amai Yoru no Tameiki" (TILAR-5006CD)
1 Zoku Emanieru Fujin
2 Ojo No Monogatari
3 Pushii Tooku
4 Kojin Jyugyou Yori (Ai No Tema)
5 Rasto Tango In Pari
6 Sotsugyou Shiken
7 Emanieru Fujin
8 Diipu Surooto
9 Shanpuu
10 Aijin Kankei
11 Himawari
12 Pinku Pansaa
First time ever legal reissue of this hyper rare 1976 Japanese erotic artifact. Tiliqua Records continues its quest to bring you forgotten erotic gems out of Tokyo's sleazy underbelly. This time, we could secure the legal rights to Taguchi Kumi's sole recorded LP, following her instant fame after starring in some of Nikkatsu's finest Roman Porno celluloid dreams such as "Tokyo Emmanuelle Fujin" (July 1975), "Tokyo Deep Throat Fujin" (1975) and "Aru Kôkyû Callgirl no
Shôgen: Roshutsu" (June 1976). Compiled out of tracks that appeared in the aforementioned porn flicks, the disc is a stunning artifact and will especially appeal to those who were already enthralled by Ike Reiko's erotic mumblings. Taguchi's effort dwells into similar erogenous eras but is more mid-seventies discoed-down and funked-up. Hot dance floor how-downs spiced up with erotic moaning and hissings. Erotic and sesunsual mid-seventies night clubbing with a
psyched feel attached to it, hell Taguchi even ventures in the team of Deep Throat and leaves nothing to the imagination. A release that once again proves that late sixties and early seventies Tokyo was a wicked and perverse place to be. In short it is a stunning and historical Iroke gem of oblivious times, restored to its original state and by doing so we repositioned it into the pantheon of forgotten erotic artifacts.
http://massmirror.com/4f4b2cf4a12f72be5679c6eef922bcd6.html
5. PETITE M'AMIE:"Girl Friend ~ Baby Doll" (TILAR-5007CD)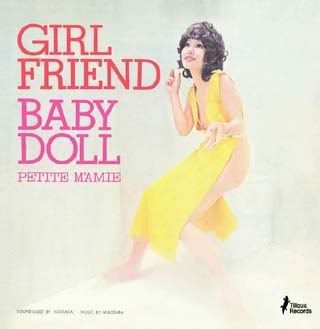 1 girlfriend
2 baby doll
3 splendor
4 pardon
5 cry
6 make love
7 prologue
8 drive
9 coffee
10 wine
11 shower
12 date-time
Petite M'amie's "Girl Friend ~ Baby Doll" disc will be the final installment in our "Erotic Oriental Sunshine" series, documenting some hideously aural gems that portrayed the sleazy sexy underbelly of late sixties and early seventies Japan. We saved the best title till last. Petite M'amie's "Girl Friend ~ Baby Doll" is without a doubt the rarest of all recorded iroke kayokyoku artifacts and copies of the original album - if they surface at all - change hands easily
for about 1500 ~ 2000 Dollars. I personally know only of 2 people who have the original disc in their possession. Originally recorded and released on May 5th, 1971, Petite M'amie was the nick name for Mari Keiko. Although she does not get naked on the cover like all the other starlets, the music she hushes out into being is utterly depraved, spiked up with an unheard quality of forlorn sleaziness, an erotic hushing and uttering that would make even Ike Reiko blush.
This record can be seen as the first ever recorded iroke record, a project to blossom out of the Victor's producer Mr. Okoda who approached the then (and now) virtually unknown Mari Keiko with his sonic intentions - a move that would ignite a whole new genre in the following years to come. The result is this sexy beast of a disc. But there where Ike Reiko's effort was drenched in a sultry pornographic vibe, Petite M'amie's benchmark recording is instead bustling
over with an innocent - almost childlike - erotic sensuality that sounds harmless but is even wilder and more deranged than Ike Reiko's take on eroticism. Mari Keiko's hushes, sleazes, breathes and hovers like Nobokov's Lolita all over this one, teasing her lover, laughing in ecstasy, moaning, singing about erogenous spots and so much more while the music dwells in a psychedelic road trip towards the bedroom
http://rapidshare.com/files/27874590/Petite_M_Amie_-_Girl_Friend-_Baby_Doll.rar.html
6. MASAMI KAWAHARA & THE EXOTIC SOUNDS "Kokotsu/ Ecstasy" (TILAR-5009CD)
1. テンプテイション (誘惑)  
2. 黒いオルフェ (歓喜)
3. タブー (禁断)
4. ジャングル・ドラムス (絶叫)
5. スワヒリの歌 (本能)
6. 男と女 (♂+♀)
7. 真昼の珊瑚礁 (幻想)
8. ナイチンゲール (悶え)
9. ヴードゥー (失神)
10. フラミンゴ (秘密)
11. サパタ (悦楽)
12. ポインシアナ (陶酔)
A new installment in Tiliqua records' ongoing "Oriental Erotic Sunshine" series is this long forgotten disc by Masami Kuwahara & The Exotic Sounds, resurrecting another aspect of the sub-cultural sexual contaminated fumes that intoxicated the late sixties and early seventies underbelly of swinging Tokyo. Originally released by Columbia Records on March 1970, " Kokotsu / Ecstasy" is here re-released for the first time. Sonic-wise, the disc unleashes a
whirlpool of Latin styled mondo -sexploitation sounds that get spiced up with feminine breathing and respiration sounds, moaning and hissing, igniting a maelstrom of assorted eroticism and sexual depravity. In all, it resembles a caged vixen engaged in sexual intercourse, hatching out cries, moans, sighs, words and other sounds such as the crackling of a whip and such, bringing out fully every possible sound made by a ballbuster in heat. The name of Kuwahara Masami may be an unfamiliar one but he was the person responsible for giving Ike Reiko her distinct sound on the record " Kokotsu no Sekai " for which he provided the musical backbone and arrangements unto which Ike could utter her depraved songs. The album " Kokotsu / Ecstasy" however was recorded slightly before his engagement with Ike Reiko but jus as " Kokotsu no Sekai " it's erotic presence flutters across a multitude of erogenous non-verbal modes - moaning and uttered shrieks of ecstatic pleasure, sibilating suffocated whispers of excitement, and grunting and growling of a caged and sexually charged vixen. Certainly the sounds of this record which leave nothing to the imagination as to what is going on, sounds which set forth the act of sexual heavy petting in its most lustful aspects and leaving nothing to the imagination, surely causing erotic and lustful sexual stimulation in any normal person upon spinning this disc. If you dug Ike Reiko, then this is definitely a worthy successor dwelling in the same regions of depravity.
http://massmirror.com/413a5b8e53a611110d96ad2b80d637cb.html
***************************************************************************************************************
and as a bonus, not part of the Tiliqua records series but...............
though not included in this series, due to the fact that this album is not "erotic" as the others, she is probably the most famous actress outside of japan due to the recent kill bill movies (they were based on her characters and 2 of the songs included in this album are on the soundtrack for kill bill); it seems appropriate to post one of her albums here.
Meiko Kaji (Lady Snowblood):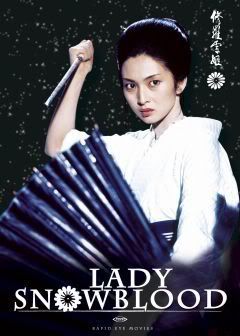 Meiko Kaji - Zenkyokushu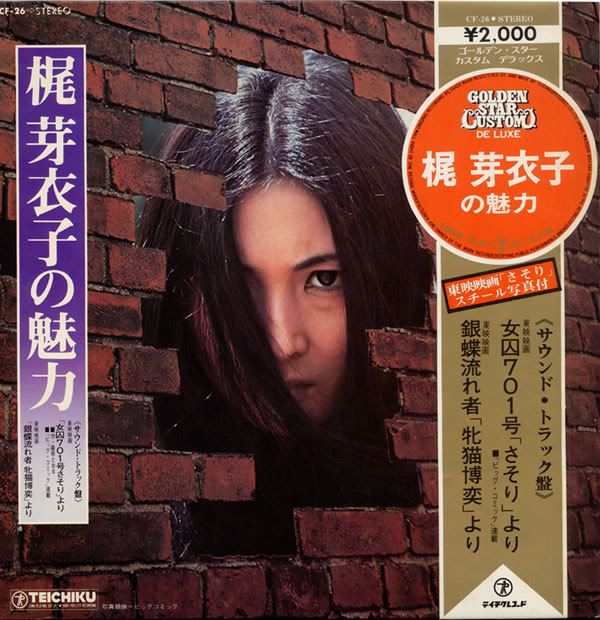 1. Urami Bushi
2. Onna no Jyumon
3. Shura no Hana
4. Yadokari
5. Jeans Blues
6. Ingabana
7. Gincho Wataridori
8. Onna Negai Uta
9. Betsuni Dottekoto Naishi
10. Shuki no Uta
11. Akana Gumo
12. Nokori Bi
13. Meinichi
14. Umihozuki
15. Hune ni Yurarete
16. Wakarebanashi nanka
17. Ame no Yoru no Anata wa
18. Minami Kaze
19. Banka
20. Meiko no Yume wa Yoru Hiraku
Meiko Kaji (Artist) Toshiya Ito (Lyricist)
Shunsuke Kikushi (Composer) Kazuo Koike (Lyricist)
Yuu Aku (Lyricist) Yasushi Nakamura (Composer)
Daisuke Inoue (Composer) Yasunori Kawauchi (Lyricist)
Koumei Sone (Composer) Yoko Agi (Lyricist)
Ryudo Uzaki (Composer) Makoto Yano (Composer)
Rei Nakanishi (Lyricist) Tatemi Yano (Arranger)
Itsuro Shimoda (Composer) Reijirou Koroku (Arranger)
bio-
Meiko Kaji (梶 芽衣子, Kaji Meiko?, born March 24, 1947 in Chiyoda, Tokyo, Japan) is a Japanese singer and actress.
In 1970, with little success but extensive experience in the movie business, she signed up with the Nikkatsu movie studio and was subsequently cast in more or less important roles in the Stray Cat Rock series. The films concern juvenile girl gang confrontations and, although inventive, they suffer from poor scripts and rickety quality throughout the series. In 1971 Nikkatsu started moving into the financially lucrative erotic movie business, for which it is best known today, terming its unique brand of softcore roman porno, or romantic [softcore] pornography. In order to avoid becoming a pink film starlet Kaji moved to Toei where she met director Shunya Ito and made four women in prison films in the Female Prisoner Scorpion series, which made her famous throughout Japan. The films were adapted from a well-known manga by Toru Shinohara. In the fourth installment Toei replaced director Shunya Ito with Yasuharu Hasebe, a decision that Kaji was unhappy about, and she subsequently left the series, which continued until 1998 with six new installments of markedly lesser quality. In 1973 she took on the role of Yuki in the revenge-themed film Lady Snowblood, which has later been popularized as a cult film in the West. It was based on a manga by Kazuo Koike who also created the Crying Freeman and Lone Wolf and Cub manga series. The film was one of the inspirations for Quentin Tarantino's Kill Bill films. It was followed by the sequel, Lady Snowblood 2: Love Song of Vengeance. Her singing career was heavily interweaved with her movie career, often singing on the soundtracks of films she starred in. Owing to this, she has seen a surge of renewed interest with the releases of Kill Bill Vol. 1 & 2 and their soundtracks. The theme song to Lady Snowblood, "Flower of Carnage" (Shura no Hana), and the theme song of the Sasori series, "Urami Bushi" (lit. Grudge Song), both sung by Kaji, were used in Tarantino's film.
http://rapidshare.com/files/27627399/Meiko_Kaji.rar.html
please, enjoy.................