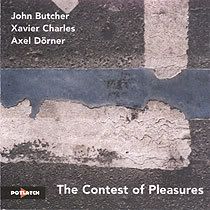 John Butcher (saxophones)
Xavier Charles (clarinet),
Axel Dorner (trumpet)
The Contest of Pleasures

http://rapidshare.com/files/49927730/ButcherCharlesDorner_ContestPleasures.part1.RAR
http://rapidshare.com/files/49928922/ButcherCharlesDorner_ContestPleasures.part2.RAR
Some intensely oblique textural nu-school shit. Recorded....hm....1997? 2000 at latest. Sharp if not prescient. IMHO, some of the strongest, or at least most wondrous, group material by any of the participants. A must-hear even if you usually don't care for the improv thing based on preponderance of squiggle-blat, almost all of which has been erased in advance by the participants. Scary-incisive groupmind energy. Keeper!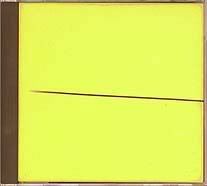 Gunter Christmann (trombone/cello) & Thomas Lehn (analogue synth):
Temps Duree
(1998, ltd ed of 150)
http://rapidshare.com/files/933906/ChristmannLehn.zip
light-speed and prickly-as-fuck. hard to place what makes this record special aside from the excellent playing, but it is definitely not a matter of just fine playing...the quickness here, the jabs and feints familiar to those of us who have listened to (probabably too much) "European free improv" quite a bit....these are here, but the moments of interaction seem to be packed especially dense..



Giuseppe Ielasi: solo live cdr

(Absurd)
http://rapidshare.com/files/2656416/GI_solo2001.zip
This is nothing but nothing like Ielasi's more recent work, a much more spartan affair; those who like the quiet Kevin Drumm might find a lot to like here. I think this was released c. 2000, maybe a little earlier. I uploaded it quite some time ago, but the link still seems to work.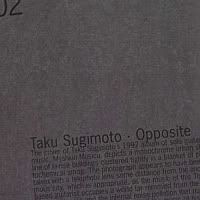 Taku Sugimoto: OPPOSITE
http://rapidshare.com/files/826675/SugimotoOpposite_pt1.zip
http://rapidshare.com/files/826901/SugimotoOpposite_pt2.zip
Gossamer dew-speckled-spiderweb guitar spun with patience you could cut with a very sharp knife. I know we had this here at some point, but it's an old upload of mine, it's good quality, I think (mp3-320?), and if you haven't heard it yet, you must, must, must.