some great recordings of favorite post jazz improvisors will be posted in the next few days, months, years. starting with a few samples in the discography of a couple of Japanese masters, Taku Sugimoto and Ottomo Yoshihide. thanks to billybilly, Graspplease, and Kalli for some of these.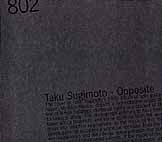 Taku Sugimoto - OPPOSITE (HatArt: HatNoir, 1998)
a perfect album of gorgeous guitar tones and licks. everyone needs this.
http://rapidshare.com/files/826675/SugimotoOpposite_pt1.zip
http://rapidshare.com/files/826901/SugimotoOpposite_pt2.zip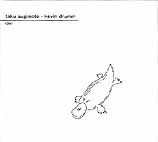 Taku Sugimoto and Kevin Drumm - Den (Sonoris, SON-13) (CD) 2000
another one of my all time favorite recordings in this area. (and not just for the funny Platypus drawing on the cover, which, all truth be told, is reason plenty)
Taku Sugimoto: guitar
Kevin Drumm: guitar, electronics
http://rapidshare.com/files/793556/Taku_Sugimoto___Kevin_Drumm.zi p.html
Taku Sugimoto / Otomo Yoshihide / Keith Rowe (all on guitars) - "Ajar"
http://www.sendspace.com/file/hzp5jb
Otomo Yoshihide, Park Je Chun, Mi Yeon - Loose Community
Ottomo playing with friends from Korea, over dubbed and constructed in the studio with improvising work by Günter Müller, Sachiko M, and Tanaka Yumiko. 6 different individuals from different backgrounds building lovely architecture in time.
http://www.sendspace.com/file/vwfz2u
I.S.O. - I.S.O.
the classic live recording in a buddhist temple / rock garden. this is the beautiful and wonderful side of Japanese school of Zen Buddhism.
Otomo Yoshihide , Sachiko M, Yoshimitsu Ichiraku
http://www.sendspace.com/file/3na39a